The manometers are measuring instruments for pressure. There are two types of pressure manometers suitable for different uses and precisely:
- Pressure dry (fillable)
- Manometers with glycerine.
The latter have the crate filled with glycerin, in order to damp the oscillations of the needle and limit the wear of moving parts, thus making these instruments suitable for use in the presence of vibrations and improving the resistance to pressure buttons.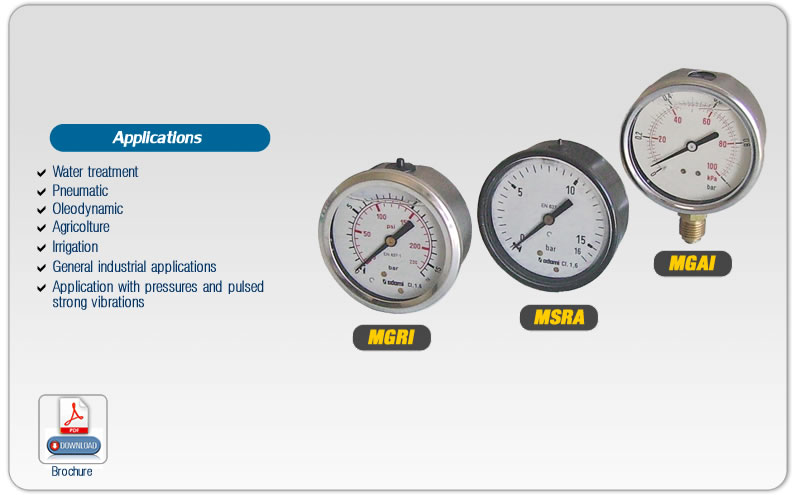 MANOMETER mod. MSRA
Type
dry
Case
DN63 in black ABS
Quadrant
transparent plastic
Connection
brass ¾" radial
Precision
Cl 1.6
Connection size
R¾"
Monometric element
tube spring in copper alloy
Hole
0,8mm

Clockwork

 
brass
Protection degree
IP31
Scale *
0-6 bar/psi, 0-16 bar/psi, 0-25 bar/psi
* Other scales on request

MANOMETER mod. MGRI
Type
in glycerin (glycerol 98%)
Case
DN63 stainless steel
Quadrant
transparent plastic
Connection
brass ¾" radial
Precision
Cl 1.6
Connection size
R¾"
Monometric element
tube spring in copper alloy
Hole
0,8mm

Clockwork

 
brass
Protection degree
IP31
Scale *
0-6 bar/psi, 0-16 bar/psi, 0-25 bar/psi

* Other scales on request

MANOMETER mod. MGAI
Type
in glycerin (glycerol 98%)
Case
DN63 stainless steel
Quadrant
transparent plastic
Connection
brass ¾" radial
Precision
Cl 1.6
Connection size
R¾"
Monometric element
tube spring in copper alloy
Hole
0,8mm

Clockwork

 
brass
Protection degree
IP31
Scale *
0-6 bar/psi, 0-16 bar/psi, 0-25 bar/psi

* Other scales on request