The fine bubble diffusers are constituted by a rubber membrane (EPDM) with microholes that dilate to get air out. At the moment when the flow stops the holes are closed again preventing water from entering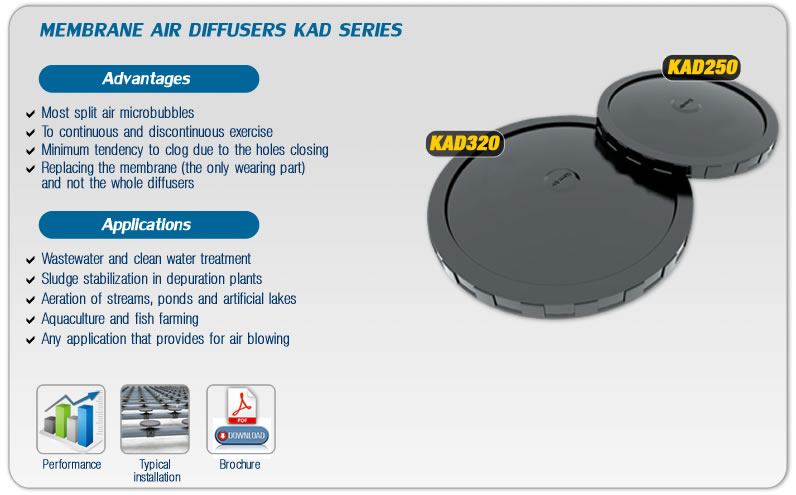 TECHNICAL FEATURES
MODEL
KAD250
KAD320
Diameter
10" (250mm)
12,5" (320mm)
Body of diffuser
ABS
ABS
Membrane type
Membrane with
precision holes in
high quality EPDM
Hardness 60 ± 5 °
Membrane with
precision holes in
high quality EPDM
Hardness 60 ± 5 °
Bubbles diameters
1-3mm
1-3mm
Number of holes
6600
8800
Connections
R¾"
R¾"
Air flow
1,699 ÷ 4,24 cbm/h
3,05 ÷ 5,94 cbm/h
Operating temperatrure
0 ~ +100°C
0 ~ +100°C
Effective area of diffusion
1,67m
2,69m
Together with KAD series diffusers, Depur SYSTEMS SRL makes available, on request, a wide range of accessories to facilitate the construction of large oxidation ponds (for example  municipal plants) where there is a need to assemble a vast net of diffusers in a simple and at the same time ensuring a high quality work.

Depending on the requirements and the type of realization, it is possible to request joints gripping bracket of diff-erent diameter, or saddle fittings PVC.  Both types of attachment to ensure the safety and efficiency of the diffuser

Collar brackets made in stainless steel  AISI 304are height adjustable and provide  anchorage to the ground and the tightness of the pipes  They are available in two versions for the diameters and ø110 ø160  complete with anchor in stainless steel AISI 316. Other diameters are available on request.

Elastic joints in EPDM with central reinforcement in stainless steel to minimize the stresses on the pipes